From my experience, the role of an SEO salesperson is often under appreciated. I don't say this just because I was introduced to the search industry in a sales role. That was more than ten years ago and so much has changed since then.
I was lucky enough to work with Anup Batra. We had a great time, at least that is how I remember it. In those days the way we worked was completely different. First we would search something on Google. Next, we would see who was running Adwords and call them up about SEO. In those days, we would tell them we could get them on the left side of Google and they would be shocked. It was exciting and business owners would go for it. We also got them the rankings we said we would. Job done.
Now it is all different. Everyone knows about SEO and has been bombarded with calls and emails on a daily basis. Those days are done. An SEO salesperson now has to know a lot more about Google and search algorithms and conversion strategies and business plans and more. SEO is definitely so much more complex than back in those days.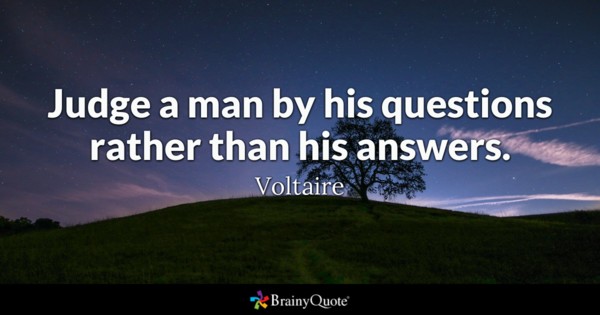 This relates to the question topic, because the quality of the questions the sales person is asking you, helps to dictate the success of your SEO campaign. For some it can be vital. The more adolescent the question is, the less in touch they are with what will most likely be of benefit to your business. When I say adolescent here, I mean that in the context of online experience and understanding what it is like to run a business.
Some examples of good questions are
What are the goals for your business?
How many sales or leads do you need from your search engine marketing campaign?
Do you have previous SEO experience?
Which products or services offer the highest profit margins?
Who is your main competitor? Especially if local competitors are relevant?
How flexible are you with adding new pages or content to your website?
How long have you been in business?
Do you check your Google analytics account very often?
Do you know how much traffic your site gets at the moment?
When was your website last updated?
What platform is it built on, ie WordPress, Shopify, Wix?
What are your main points of difference?
How are your products or services priced compared to other in your industry?
What makes your brand special?
How do you feel about writing or adding blog content?
Don't you think it would be a good idea to look at your conversion rate and how you might be able to improve that?
What statistics would be important to you from a reporting point of view and how often would you like to hear from us?
I have just been coming up with all of the above off the top of my head. The point is to show that the person who you speak to about your SEO plan, should be interested in you as a business. They need to understand what makes your business tick, so that they can plan what will help from a search engine point of view.
The questions I used to ask in my adolescent SEO days are no longer what you want to be hearing? Questions like
What are the main keywords you would like to be found for?
How many keywords would you like to be found for?
How big a difference would that make to your business?
Have you heard about our guarantee?
Do you mind signing a contract?
If they are repeating a script or strict sales funnel process, then it is not too likely they will have anything in mind except meeting targets and getting a sale. That is life, but is it the life you want?
Benefits of dealing with a committed SEO Salesperson
If the sales person you deal with is experienced in search engine marketing, and even better, has a vested interest in the success of your campaign, the chance of a profitable long term relationship is so much higher. Why is that I hear you ask?
Well firstly, someone with experience can help you establish goals and ways to measure them. For me, when you hire a company to manage your search engine marketing, you have to have some clear goals from the start, and ways to measure them. Or else you are just hitting and hoping really.
Someone who understands SEO can also help improve the structure of your site as part of the SEO process. This alone will help get more relevant visitors to you site and has a great chance of increasing your conversion too. By this I mean, well, let's say you are a printer, but you also specialise in vehicle wraps or car advertising. If you don't have a page about your vehicle wrapping service on your website, then you are probably missing out on a lot of traffic and enquiries, even if it is just mentioned in your content. Planning can fix this.
What makes the sales person important is that he or she can identify these gaps on your website at the beginning of the SEO process. Shortcutting improvements and getting you a better result faster, in theory anyway.
The sales person is also the one who translates what you want or what you need, to the team behind him or her that will implement the strategy. The better they collect info and engage with you about your business and what is important to you, the better they can pass this on to the people who will write content, edit your website and strategize each month.
I loved my job as an SEO sales person. I find it a bit difficult these days. Like a forty something year old footballer perhaps. But I do truly believe they play such an important role in getting clients projects off on the right foot. They don't have to be your friend, but they need to know what they are talking about, and to get you as a business owner.