Get your free
site audit
Fill out this form to get your site audit report
sent straight to your inbox.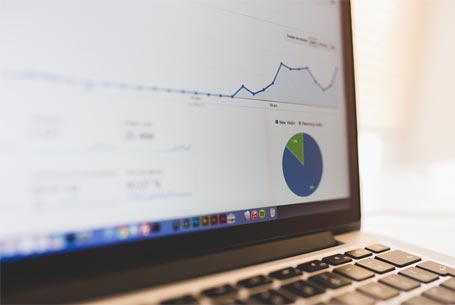 What Is CRO
With over ten years' experience improving results from client's websites, we recognise conversion rate optimisation (CRO) as an essential element of search engine marketing.
There are many elements to getting the most from you're your website, and if it is not converting visitors well, then any attempt to get more traffic is not going to deliver the best possible ROI.
Most businesses, including most of your competitors (the ones you know and maybe don't even know) are all trying to get leads and sales through their websites. As time goes by, dominating the search results becomes more and more competitive. A responsible approach to SEO or Adwords management in our opinion has to consider the conversion rate of client's websites.
Lots of Traffic Not Enough Sales
There is nothing more frustrating than seeing the visitor numbers of a client's website going up each week, but then hearing of seeing through their analytics that sales or enquiries are not increasing. There are two reasons we don't like this. Firstly, we want our clients to make more money from our service, that is what gives us job satisfaction. Secondly, we understand that our clients need to make more money from our services to develop the long-term working relationships we most enjoy.
Sometimes small changes to a website can generate a lot more sales or enquiries. Some of the key improvements or sticking points are listed in the next column.
Clearer contact points
Easier enquiry forms
Installing easy to use pop ups
Better website copywriting
Improved design thinking
User experience (UX) improvements
Simplified payment systems
Click to call buttons
Scientifically proven colour choices
Email address capture strategies
Reverse engineering product pages
Copywriting to suit target market
Creating successful offers
Assessment of the website sales funnels
How Does CRO Work
As a very experienced search engine marketing agency in Melbourne, conversion rate optimisation is something we provide for both our SEO and Adwords management clients. We can also provide CRO services to new clients, whether they wish to work with us on increasing their traffic or not.
The basic process of a CRO campaign is to follow these three steps over and over, always looking to improve each time the cycle begins again.
Audit and Assessment
Strategy Implementation and Tracking
Split Testing and Measuring
Each CRO effort should be aimed are your main target market or have a specific goal.
Have
Questions ?
Let us help to get them all answered. Give us a call today!
The CRO Process
Audit and Assessment
During our audit phase, we analyse the current traffic to a website to get a picture of how visitors are behaving. We try to find where things may be going wrong, and what could be improved.
Strategy And Tracking Implementation
Once we get the picture, we move on to solutions. Different plans will be made to solve each unique problem, and the strategies will be applied to the website. We also use heat mapping to monitor visitor activity and other tools to gain real time insights from relevant pages.
Split Test (A/B Testing) and Measure
Now the ideas are a reality, we track and measure the results. This may be in a stepped approach to see what really works. Not all ideas do! We split test and always measure to see the affects.
Sometimes, conversion rate optimisation is the difference between a successful website and a hard working mediocre one. You know the saying, 'work smarter, not harder'. That can definitely be applied here.
If you would like a free consultation about your website, including CRO, then contact us to arrange a chat. Every project is interesting and we'd love to hear from you. So, to chat about conversion rate optimisation Melbourne businesses can really benefit from, contact us today.
I had instant results with my google ranking after having Rank First work on my sight! I was on the 2nd page for years and after just a few weeks of Rank First working on my page BooM Page one! love it. Thanks Troy and the team 🙂 One very happy customer here.
Great team. Incredible results fast. Recommend.
I am a business consultant and have used Rankfirst for SEO, blog writing, and AdWords for a number of clients. They have been easy to deal with, reasonably priced, and more importantly - got excellent results for my clients. I strongly recommend them for both their work and ethics.
Walter Van Ruth / Property & Estates
2017-08-16
The team at Rank 1st know their stuff! For people, like myself who are not i.t minded, you can take comfort in the fact that Rank 1st are, and will look after your ranking needs so you don't need to.
We are an ongoing customer at Rank First.. We've found our ranking has improved considerably thus turning into more inquiries/sales.. We work specifically with Robynne & its easy to perceive that she has a genuine interest in what we do & always makes herself available to listen & act (if needed) to any concerns we may have..
We have sold out our project and part of that is thanks to you guys at Rank First. Thanks for the advice and help with our internet marketing. I am sure we would have wasted more money otherwise.
Catherine Anderson
2011-12-02
My vintage eyewear business didn't really kick off until I hired Rank First to apply some SEO. I was tracking my site ranks from the beginning, and I experienced a huge leap in visitors over the next few weeks.
Rank First gave me the edge I really needed to pull ahead of the competition. With their help developing SEO, I outranked all my local competitors in Melbourne, and I've advanced on my online competitors, too.